Editorial Article: Personalized Adoptive T Cell Therapy: A New, Rational Approach to Immunotherapy
A small team of biotech scientists is targeting patient specific 'neoantigens' to improve response to adoptive T cell therapy in acute myeloid leukemia (AML)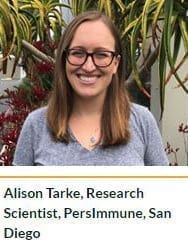 Based in San Diego, Alison Tarke is a research scientist with biotech company PersImmune, which, though just eight scientists strong, is making waves in the field of immuno-oncology. The company's novel approach puts a spin on adoptive T cell therapy as we know it, using patient-specific 'neoantigens' present in a tumor to achieve more potent, personalized cancer cell killing. Speaking with SelectScience, Tarke addresses the topic in more detail – providing exclusive insight into their pipeline candidate, PACTN, currently in phase I clinical trials. She also describes the tools and technologies that have been, and continue to be, instrumental to their pioneering approach.
Positioning PersImmune's unique scientific strategy, Tarke says: "Like many others, we have realized that the immune system is an increasingly effective tool for fighting cancer. But, instead of trying to evolve adoptive T cell therapy in to a one-size-fits-all solution, we appreciate that immunogenic mutations vary greatly between patients, as do the inhibitory mechanisms of each tumor's microenvironment. With this in mind, we are taking an approach that is entirely specific to a given patient's cancer, by identifying so-called neoantigens."
Precision versus personalized medicine
Tumor neoantigens are mutated peptides expressed solely on the surface of cancer cells and are capable of being recognized by infiltrated T cells. Whilst the concept of precision medicine is well-entrenched into modern cancer therapy regimens, PersImmune's strategy takes it one step further.
Most novel drug compounds are developed around the notion that a proportion of cancer patients, who share a common disease-driving mutation, will benefit. But, as Tarke explains, the most effective T cell-mediated killing strategy involves targeting neoantigens that are so rare, they are unique to the patient's primary tumor: "The mutations we're targeting are entirely specific to one patient. If you weren't genotyping each patient and their tumor, you wouldn't find these antigens. But, although these somatic gene variants are rare between tumors, they are in fact common to the cells that make up the given tumor, meaning that the adopted T cells are able to target most, if not all of the cancer. This is the difference between precision and personalized medicine."
Thanks to major advances in sequencing technologies, it's now possible to identify plausible neoantigenic targets for adoptive cell therapy. Tarke explains how, as part of their ongoing clinical research, they evaluate and identify these mutations: "In our phase I clinical trial, we receive fresh blood samples from newly diagnosed AML or myelodysplastic syndrome (MDS) patients, conduct whole gene sequencing, and evaluate the mutations present – including both driver and passenger mutations. We then isolate their T cell lymphocytes and immunize them ex vivo, with the newly identified neopeptides. In the context of MHC classes I and II, these altered amino acid sequences are then recognized as non-self, and the cells are destroyed. The therapy is called PACTN, which stands for personalized adoptive cell therapy targeting neoantigens."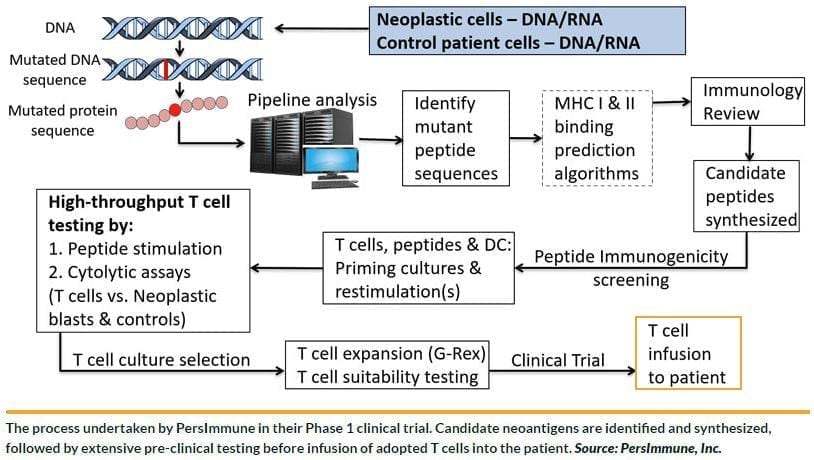 PACTN: Promising results in early clinical trials
At this early stage, the purpose is to establish the safety of PACTN by determining maximum tolerated dose and monitoring acute toxicities. It is well known that cell transfer therapy, including CAR-T, can induce off-target effects due to the expression of target antigens in central and peripheral non-cancerous tissue. This is particularly pertinent when patients are exposed to high-affinity TCRs (T cell receptors). Yet, one of the great benefits of this new approach is the exclusivity of somatic mutations to tumors, preventing damage and destruction to normal tissue.
As Tarke explains, this has been reflected in the study results so far: "The three patients enrolled to date, all of whom have failed primary interventions with hypomethylating agents, have produced reassuring toxicity profiles – tolerating the drug well. We still need to treat around six more patients before we reach the end of our phase I trial, and continue to monitor them for a year each in total, but it's looking extremely promising."
Tarke adds: "We do as much in vitro analysis as we can to characterize the immunogens and determine both their safety and efficacy in pre-clinical studies, before moving into the patient. In fact, my primary responsibility in the lab is immunogenicity testing and assay development."
The technology making the difference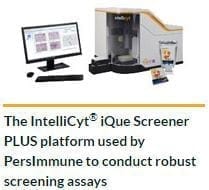 For a company with fewer than 10 employees, the work that PersImmune is doing is remarkable. The accuracy and speed of the team's research output is thanks in part to the cutting-edge analytical equipment that it has access to, explains Tarke, with one lab instrument in particular making a pivotal difference: "The Intellicyt® iQue Screener PLUS is our main workhorse."
Over the past few years, flow cytometry technology has developed to enable high-content, single-cell analysis at the higher throughputs required in screening. As a result, it's quickly becoming the mainstay technology for drug discovery, and Tarke is passionate about the benefits this tool brings to her work: "We've left behind the ELISpot and ELISAs and replaced them with flow-based assays. The most important assay for our research is T cell killing, where we take stimulated effector cells against the neoantigens, and monitor direct killing.
"With this technology, it's great to be able to do our work in suspension format, and phenotype each cell individually — determining exactly what it's secreting, or whether it's expressing markers of activation or exhaustion. We monitor up to nine different antigens at one time, including intracellular and cell surface markers. But perhaps one of the most important facets of this technology is the speed of acquisition. From what used to take us hours, we can now do it in 20 minutes, meaning that the biology of the cells, or antibodies, are not compromised."
With a clear vision to provide potent and durable anti-cancer solutions, PersImmune has established itself as a true innovator in immuno-oncology – harnessing the power of the immune system, patient by patient, using the industry's top technology platforms. The phase I clinical trial for blood cancers is due for completion in 2020 but, longer term, the team hopes to extend the concept of PACTN to solid tumors and have a global impact on patient outcome.