Elrig Drug Discovery 2018
October 09, 2018 - October 10, 2018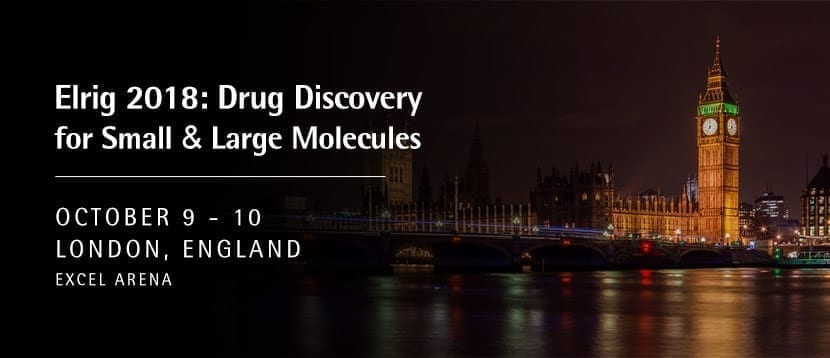 Visit the Sartorius booth #L1-L4 at Elrig Drug Discovery 2018 to learn the latest on the Intellicyt® iQue Screener PLUS and the IncuCyte® S3 Live-Cell Analysis System.

Discover the fastest path to actionable results with our high throughput, suspension cell and bead analysis platform, the Intellicyt® iQue Screener PLUS:
Multiplexed binding assays (96-well plate in 5 min)
Identify targets in their native conformation
Evaluate specificity and species cross-reactivity in the same well
Get information on cell health, isotype and titer from a single assay
Derive deeper insights into active biological processes with the IncuCyte S3 Live-Cell Analysis System.
Kinetic, image-based measurements from inside your incubator
Real-time monitoring of cell health and viability, migration and invasion, and other phenotypic cell-based assays
Profile cell-specific and time-dependent biological activity
Powerful imaging & analysis tools for real-time decision-making
Learn More About Elrig Drug Discovery 2018

At the show, join our workshop, vendor spotlight and poster presentation to learn how our innovative cell analysis systems provide specialized instrumentation, software and reagents to accelerate discovery and development of novel therapeutics and provide new insight into the mechanisms of disease at a speed, depth and scale not achievable with conventional cell analysis techniques.
Workshop
Presenters: Tim Dale, Sartorius; Dan Foxler, GammaDelta Therapeutics; Jessy Cartier, Aquila BioMedical
Date and Time: October 9, 2018 – 10:50am – 12:15pm
Location: Platinum Suite 6
Presentation Title: Live-cell analysis techniques: developing translational assays for drug discovery
In this workshop, we will discuss the latest developments in live-cell analysis. Through BioTech and CRO end-user case study presentations, new applications in therapeutic discovery projects will be reviewed. These include immune cell killing assays in 2D & 3D, phagocytosis, antibody internalization measurements and tumour-spheroid analyses. Interactive discussions will be encouraged to explore how live-cell analysis is best aligned with discovery project requirements and how they can be further developed to address unmet needs.
The workshop is targeted toward researchers with general interest in translational cell models, cell-based assays, cancer biology and immunology, including current and prospective users.
Vendor Spotlight
Presenter: Katrina Kidd
Date and Time: October 10, 2018 – 11:20am
Location: Platinum Suite 2
Presentation Title: High throughput suspension cell and bead analysis with Intellicyt® iQue Screener PLUS
Whether you are discovering a new therapeutic antibody, developing a specific checkpoint inhibitor or evaluating CAR T cell function, driving your research forward hinges on the ability to rapidly evaluate more samples in a biologically relevant, reproducible and cost effective way. While flow cytometry is commonly used for  analysis of cells and beads in suspension, it offers limited capabilities in screening applications for assay throughput, automation, sample/reagent volume requirements, and ease of use.
The Intellicyt® iQue Screener PLUS is an integrated instrument, software and reagent platform for rapid, high-content, multiplexed analysis of cells and beads in suspension. The combination of speed and miniaturization, with powerful multi-parametric data analysis and visualization, gives you actionable results from a few microliters of sample, in record time.
Poster Presentation
Development of multi-spheroid co-culture 3D tumour assays using real-time live-cell analysis
Date and Time: October 9, 2018 – 5:00pm
Authors: K. Patel, M. Oliver, N. Holtz, T. Jackson, N. Dana, T. Dale, D. Trezise