iQue® Human Antibody Dependent Cellular Phagocytosis (ADCP) Kit
November 04, 2020
Key Benefits
Perform high-throughput analysis: Validated reagents for rapid quantification of ADCP in 96 or 384-well plates.
Obtain quantitative data: Generate reproducible and specific measurements of ADCP suitable for pharmacological analysis.
Analyze multiple cell models: Assess ADCP on a variety of adherent or non-adherent target cells.
Maximize productivity: Reduce time to answer with real time data analysis and novel visualization tools
Kit Description
The iQue® Human Antibody Dependent Cellular Phagocytosis (ADCP) Kit enables high throughput identification of tumor elimination mediated by mAbs. The kit is designed for homogeneous labeling of target cancer cells using a green fluorescent dye, effector cell identification via (non-adherent or adherent) CD14+ labeling, as well as quantification of cell membrane integrity.
Post labeling of target and effector cells, customer test antibodies are added, inducing tumor clearance via their binding to encoded target cells and subsequent CD14+ effector cell binding and engulfment. Test antibodies bind to target cells through its Fab region and CD14+ effector cells binding via Fc region.
The readout measures the number of CD14+ effector cells that are positive for the cell encoder dye. The CD14+ effector cells can only be positive for the cell encoder dye if they have phagocytosed target cells.
The iQue® Human ADCP Kit has been validated for use on the iQue® platform with BR and VBR configurations.
Workflow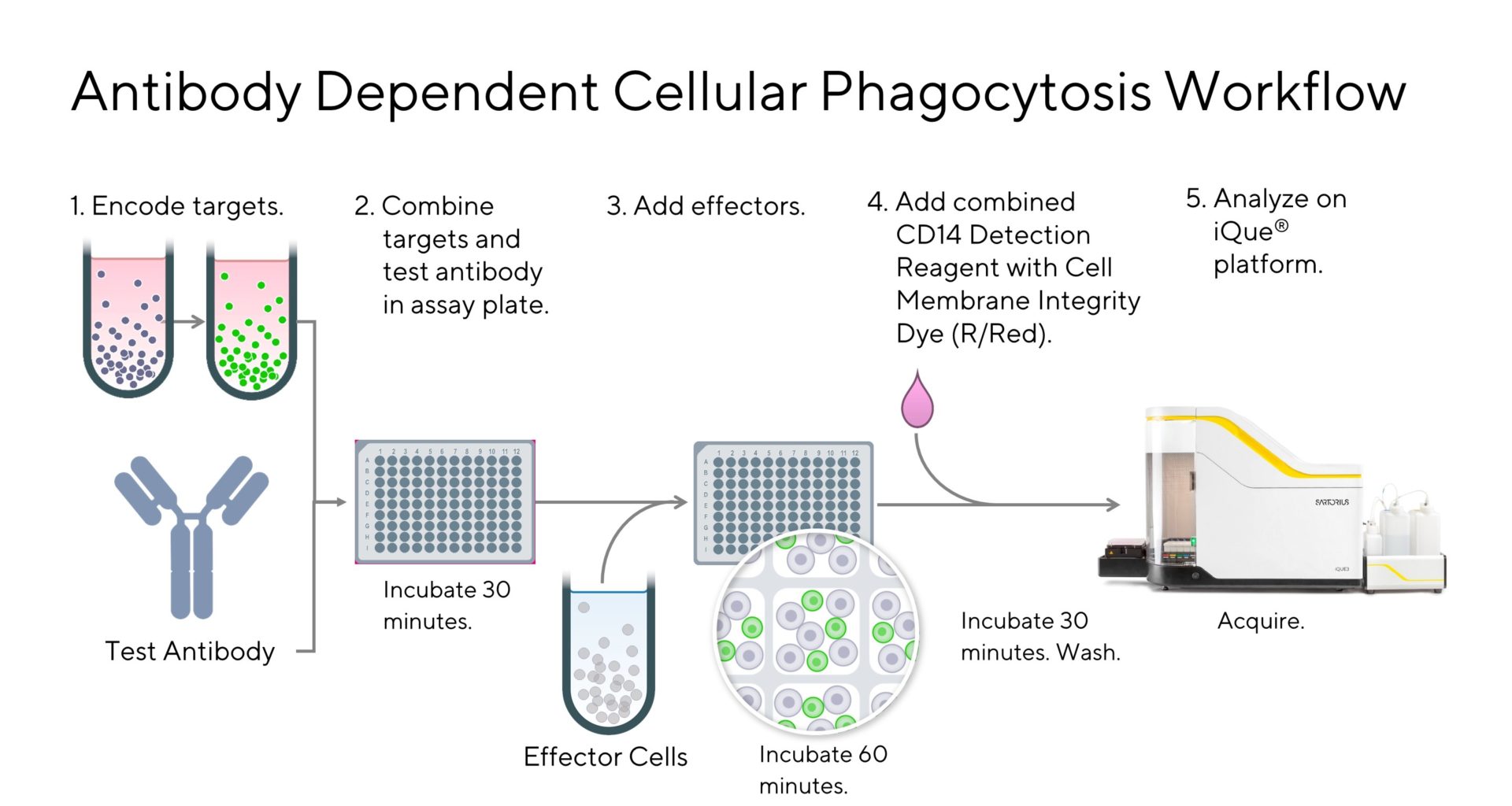 iQue® Human Antibody Dependent Cellular Phagocytosis (ADCP) Kit
Platform
Compatible with iQue® 3/iQue® Screener Plus - VBR and BR Configurations
Available Sizes
Catalog Numbers
1 x 96 well
BA-97106
5 x 96 wells
BA-97107
1 x 384 wells
BA-97108
5 x 384 wells
BA-97109