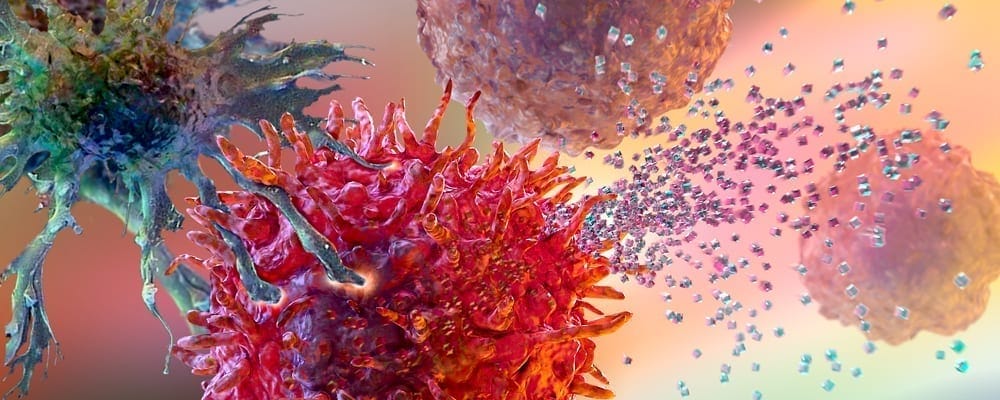 Intellicyt® T Cell Activation Cell and Cytokine Profiling Kit
The activation of naive T cells by antigen is one of the central events in the adaptive immune responses.  Binding of an antigen to the T cell receptor (TCR)/CD3 complex along with costimulatory signals initiates clonal expansion of both CD4+ helper and CD8+ cytotoxic T cells.  In addition to cell proliferation, a variety of signaling pathways are activated leading to the expression of functional proteins including cell surface markers and the release of cytokines.  Further differentiation of activated T cells result in effector cell functions such as B-lymphocyte and macrophage activation by CD4+ cells and T cell mediated cell killing by CD8+ cells.  Understanding the biology of T cell activation as well as profiling biologics and compounds that impact T cell activation are critical for a broad spectrum of applications including drug discovery and adoptive cell therapy.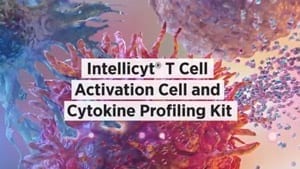 Webinar: Gaining critical insights for drug discovery applications using high-content cell analysis platforms


Kit Description
The T Cell Activation Cell and Cytokine Profiling Kit assesses the activation status of T cells while providing information about their health and their role in cytokine secretion. This one wash assay requires minimal hands on time and measures both cells and beads to provide the following biological insights:
Live immune cells are distinguished from dead cellsby staining with a fluorescent membrane integrity dye.
Cells are immunophenotypedby staining with a fluorescent antibody panel to separate CD3+ T cells, CD3- non-T cells, CD4+ T helper cells, CD8+ T cytotoxic cells.
The T cell phenotypes are profiled for the expression of 3 activation markers, CD69 (early), CD25 (late), and HLA-DR (even later, with strong stimulation).
Optimized workflow enables the measurement of effector cytokines secreted by activated T cells, Th1 cytokine IFNγ/ multifunctional cytokine TNFα in the same assay well.
Download the infographic 'Enhancing Immune Cell Characterization' to learn more about the advantages of the Intellicyt® T Cell Activation Cell and Cytokine Profiling Kit

Workflow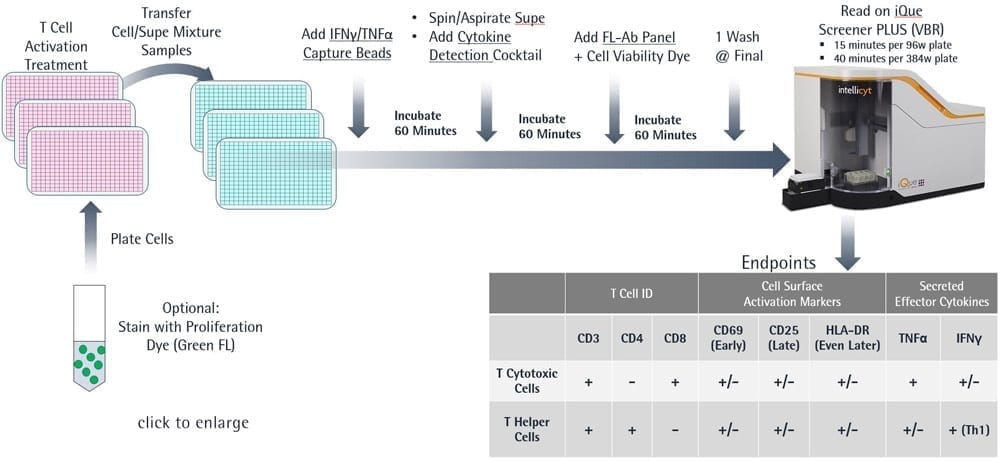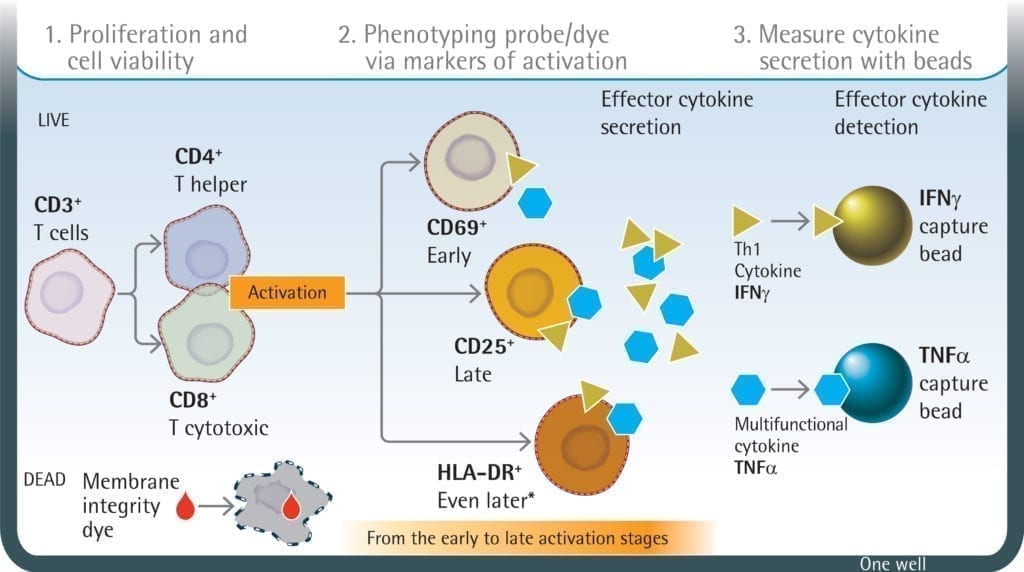 T Cell Activation Cell and Cytokine Profiling Kit
Platform
Compatible with iQue Screener PLUS VBR configuration
Available Sizes
Catalog Numbers
1 x 96 well
90560
5 x 96 wells
90561
1 x 384 wells
90562
5X384 wells
90563
NEW: Intellicyt® T Cell Companion Kits
The Intellicyt® T Cell Companion Kits can be used to measure additional cytokines besides those already included in the Intellicyt® T Cell Activation Cell and Cytokine Profiling Kit or other T Cell Immunology Kits. Below are the list of available cytokines for T Cell Companion Kits.
T Cell Companion Kits
Catalog no.
Description
97028
Human IL-2 T Cell Companion Kit
97029
Human IL-6 T Cell Companion Kit
97030
Human IL-10 T Cell Companion Kit
97031
Human IL-13 T Cell Companion Kit
97032
Human IL-17A T Cell Companion Kit
97033
Human GM-CSF T Cell Companion Kit

Technical Resources
Documentation
Poster
Infographic
Application Note
Webinar
Want to learn more or request a demo?
Back to Top