Taking Flow to the Next Level: A Novel, Integrated Platform to Accelerate Decision-Making for Suspension Cell Analysis
In the field of drug discovery and development, high-throughput suspension cell and bead screening are quickly becoming the platform of choice for biologics discovery, small molecule drug discovery, and adoptive cell therapy laboratories across the globe. A critical bottleneck in high-throughput/high-content screens is the data analysis following data acquisition. The copious amounts of data generated on each cell, and the number of cells that can be interrogated, presents difficulties with management, interpretation, and conversion of the data into actionable answers.
This webinar describes a reliable method for high-throughput data analysis by introducing you to a novel flow-based integrated platform ­– the Intellicyt® iQue Screener PLUS with powerful ForeCyt®  acquisition and analysis software – that expands the analytical capabilities of flow cytometry by providing easy access to plate level analytics, dynamic profiling using multi-parameter data, and result visualization across all the plates in your experiments. The webinar will cover examples of data sets from cell line development, IgG isotyping/titering, and immune cell assessment.
Watch a preview: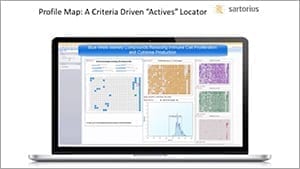 What you will learn:
You will learn to address the challenges presented by traditional flow technologies for screening cells and secreted proteins. This webinar will introduce you to the integrated Intellicyt® iQue Screener PLUS platform and ForeCyt®, highlight some key, actionable features, and offer you the following methods in high-throughput data analysis:
Plate level analytics and custom metric creation for dose-response and standard curve generation
Profile mapping to help rapidly locate the wells that meet multiplexed criteria
Identifying and ranking wells of interest
'Well scan' to link multiple visualizations so you can quickly see all graphics generated from each well
Panorama to enable an analysis of multiple plates at a glance across your experiment
Complete the form below to watch the full webinar and learn more.